How Portland Pet Food Company Works Towards Sustainability
At Portland Pet Food Company, sustainability is one of our core values, and you can see its impact throughout our entire business – from how we source our ingredients to recycling used meal pouches.
Sustainability Starts With Sourcing 
Reducing Emissions Through Local Sourcing
The foundation of our sustainability effort is through sourcing. By partnering with local farms and businesses, we cut down on fuel emissions and the intensive refrigeration needed for shipping – while also supporting the local community and economy. Secondly, sourcing locally gives us the opportunity to ensure that our ingredients come from people we trust, who treat their animals and products ethically. We want to be proud of the ingredients we use, which is why we partner with companies like Bob's Red Mill, Carlton Farms, and SP Provisions.
Save 20% on our meal & treat variety pack
Upcycling Spent Grain
Of all our sustainable ingredients, the one that we're most proud to use is spent grain – an upcycled brewery by-product rich in fiber and protein and the first ingredient in all of our brew biscuits.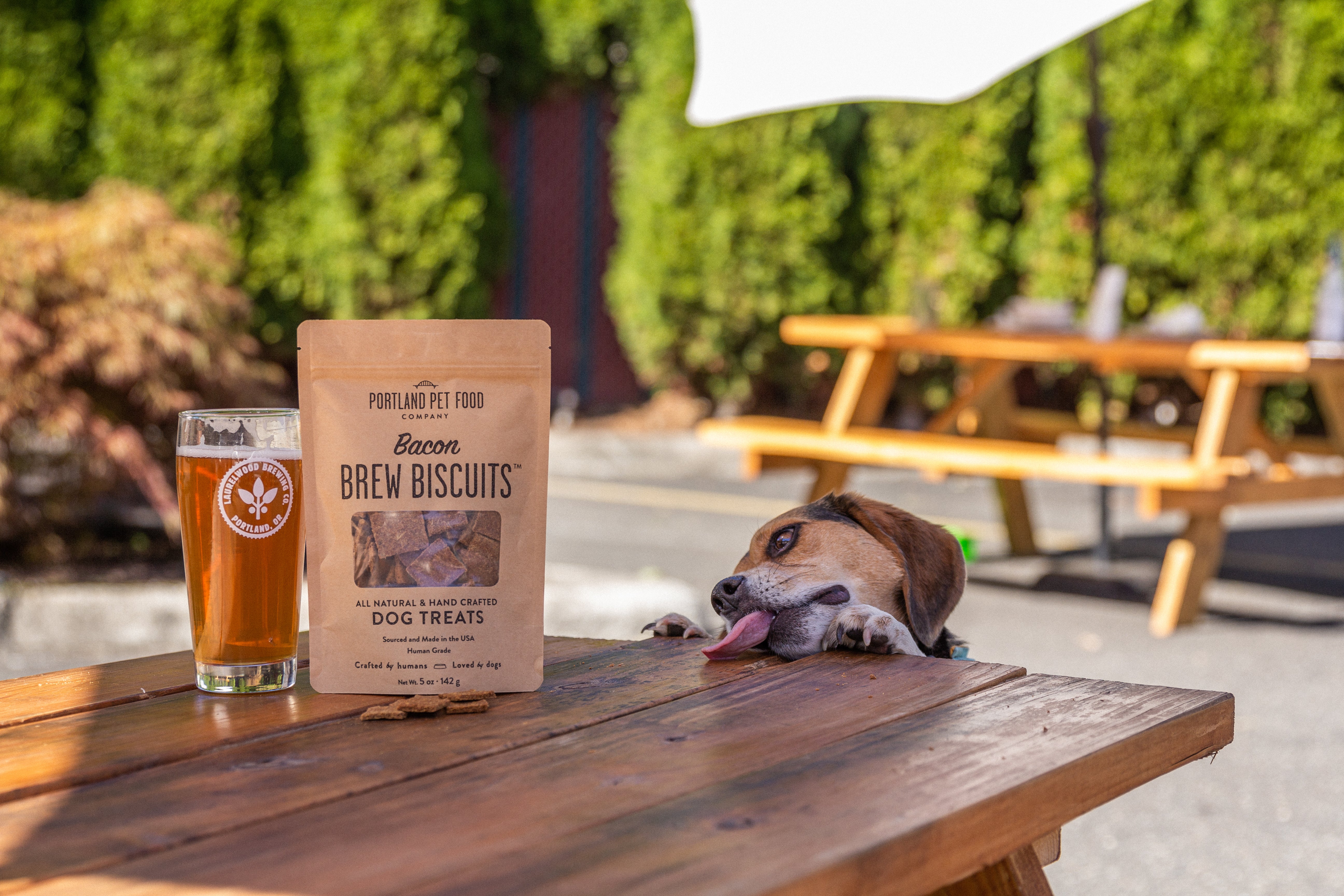 What Is Spent Grain?
Spent grain is a nutritious brewing by-product consisting ingredients such as wheat, maize, rice, sorghum, millet, and/or barley and is used during the brewing process at breweries around the world. Unfortunately, once breweries are finished with spent grain, it is often taken to landfill. While many breweries try to find sustainable ways to repurpose leftover grains – such as gifting them to farms for animal feed – there is more spent grain produced than farmers can reuse. In fact, for every six pack of beer, one pound of grains is generated and is often taken to landfill. We're proud to partner with Ruse Brewing and Hopworks Urban Brewery to repurpose their barley. Last year, we upcycled over 13,000 pounds of spent grain that would otherwise end up in landfills - up from 4,300 pounds in 2020.. Try some of our sustainable spent grain dog treats: Bacon Brew Biscuits, Beef Broth Brew Biscuits, and Pumpkin Brew Biscuits. We also use barley in our Bacon Malt Biscuits, upcycled from Westward Whiskey Distillery.
Packaging Pet Food Products Sustainably
Pet food comes in many shapes and sizes, from canned wet meals to large bags of kibble. At Portland Pet Food Company, we've consciously chosen to package our meals in retort pouches, which helps dramatically reduce our environmental impact.
What Is A Retort Pouch?
Retort pouches are structured containers made of layers of laminate, paper products, or recycled materials. Once filled, they are hermatically sealed to guarantee a shelf life of two years. The process of manufacturing pet food in retort pouches uses 75% less energy and 1/10th of the CO2 used to manufacture a metal can of pet food. Additionally, due to their size and shape, a standard 45-foot truck can ship 2.3 million retort packages at once, while the same trailer could only carry 200,000 8oz. cans, bringing down shipping costs and CO2 emissions. Upon our initial research, we found stats that claimed 95% of pet food packaging is not recyclable, and we were determined to not be a part of that! So in addition to investing in eco-friendly, BPA-free packaging for our meals, we also partnered with an organization called TerraCycle to develop a free recycling program that any customer can participate in.
Made With Repurposed Ingredients:
Use left/right arrows to navigate the slideshow or swipe left/right if using a mobile device