Best Dog Food Toppers For Picky Eaters
Call them what you want – finnicky, fussy, choosy, selective – we created our dog food toppers especially for dogs that are picky eaters.
Literally, it's why we started Portland Pet Food Company in 2014! When founder Katie McCarron's senior dog, Rosie, started showing less interest in food and losing weight, she looked for a solution…one which she never did find on the shelves.
 After researching dog food and discovering that most brands and flavors contained a slew of additives, preservatives, synthetics, byproducts, and rendered foods, Katie crafted a different type of dog food topper which was rich in whole foods and reinvigorated Rosie's appetite, allowing her to live another 2.5 years, until she was sixteen years old! 
Try The Meal & Treat Variety Pack And Save 20%
We've come a long way since those beginnings...
and our dog food toppers are now available online and in more than 2,000 stores, including Whole Foods. But we've never stopped striving to make the best dog food toppers for picky eaters, for our own dogs, and for dogs around the world.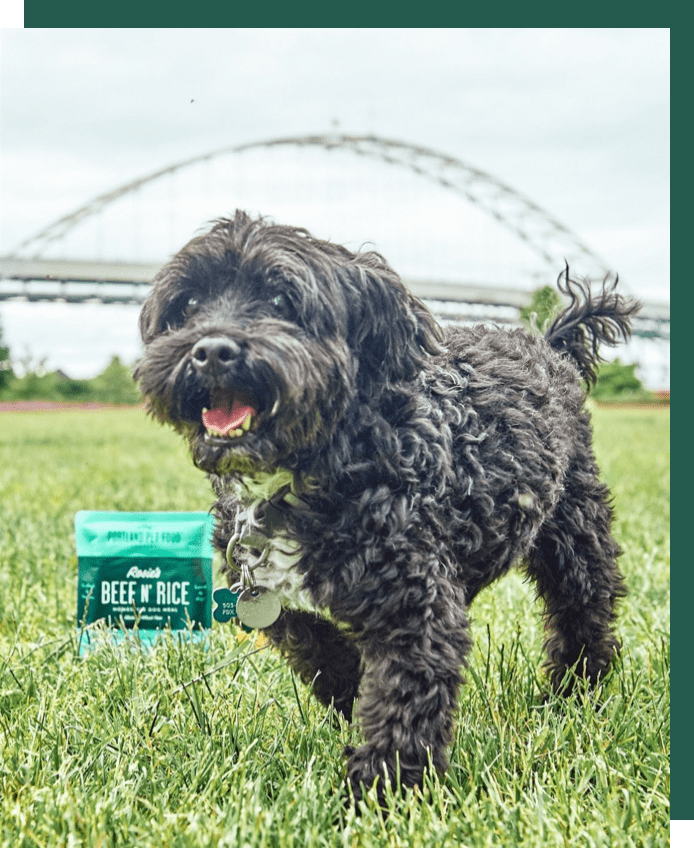 The Best Dog Food Toppers For Picky Eaters
At PPFC, here's what makes our meals the best dog food toppers - especially for picky eater dogs: Human-Grade, Whole Foods: Our fresh dog food toppers are made from human-grade whole foods – the same types of ingredients you would feed yourself. Trust us, your dogs will notice the difference when you serve our gently-cooked toppers. High Nutritional Value: Unlike highly-processed dog foods, our healthy dog food toppers are gently-cooked inside their serving pouches, which locks in the nutrients and taste of the whole foods we use. Without any additives or preservatives in them, our dog food topper pouches have a shelf-stable life of two years. Never More Than 11 Ingredients: All of our toppers have limited ingredients and none contain more than 11 ingredients. Read the label of any of our dog food toppers and you'll instantly know what the ingredients are since most of them are part of your own diet. Ingredients Sourced And Made In The U.S. – All of the ingredients in our dog food toppers and dog treats are sourced in the United States and most of them come from the Pacific Northwest, near our headquarters in Portland, Oregon. Gluten-Free And Grain-Free: All five flavors of our dog food toppers are gluten-free - like our Rosie's Beef N' Rice pictured below - and two of our flavors are also grain-free so you can always find something suitable for your pup!
Dog Food Toppers Subscription Service
For your convenience, we offer a flexible dog food toppers subscription service. When you sign up for a delivery subscription (which can include our dog food toppers and/or dog treats), you receive 25% off your first order and 10% off all future orders. You can easily change or cancel your subscription at any time!
Subscribe & Save 25% On Your First Order
Why Do Dogs Become Picky Eaters
While some dogs are picky eaters from the time they're born, most dogs become finicky (temporarily or permanently) later in life. Some dogs lose their appetite because of an illness or medical treatment, other dogs start eating less when their sense of taste and/or smell wanes, and many senior dogs become picky eaters because they develop sensitive stomachs and have trouble digesting food that has additives, preservatives, and/or byproducts in it. Use PPFC Dog Food Toppers As A Topping, Mixer, or Rotational Meal You can use our dog food toppers as a topping (just put a few tablespoons on top of your dog's food), a mixer (mix some of the topping in with your dog's food), or as a rotational meal (particularly for small dogs). However you choose to share the dog food toppers with your dog, you might just find that your picky eater dog now has more interest in its food.
Shop Our Meal Toppers
Use left/right arrows to navigate the slideshow or swipe left/right if using a mobile device