Gently Cooked Dog Food Toppers
"Gently cooked" is a phrase you might have seen crop up recently in descriptions of dog food, or its fancier counterpart, "sous vide." 
At Portland Pet Food Company, we've always been gently cooking our dog food toppers…and for good reason.
Creative Ways To Incorporate Our Meals!
What Is Gently Cooked Dog Food
With most dog food products, the cooking is at one extreme or the other. Dog kibble is processed at high pressure and high heats, while raw dog food isn't cooked at all. Gently cooked dog food falls in the middle – cooked at temperatures high enough to kill off bacteria, yet low enough to ensure that the temperature of the cooking doesn't strip away the nutrient density of the ingredients used.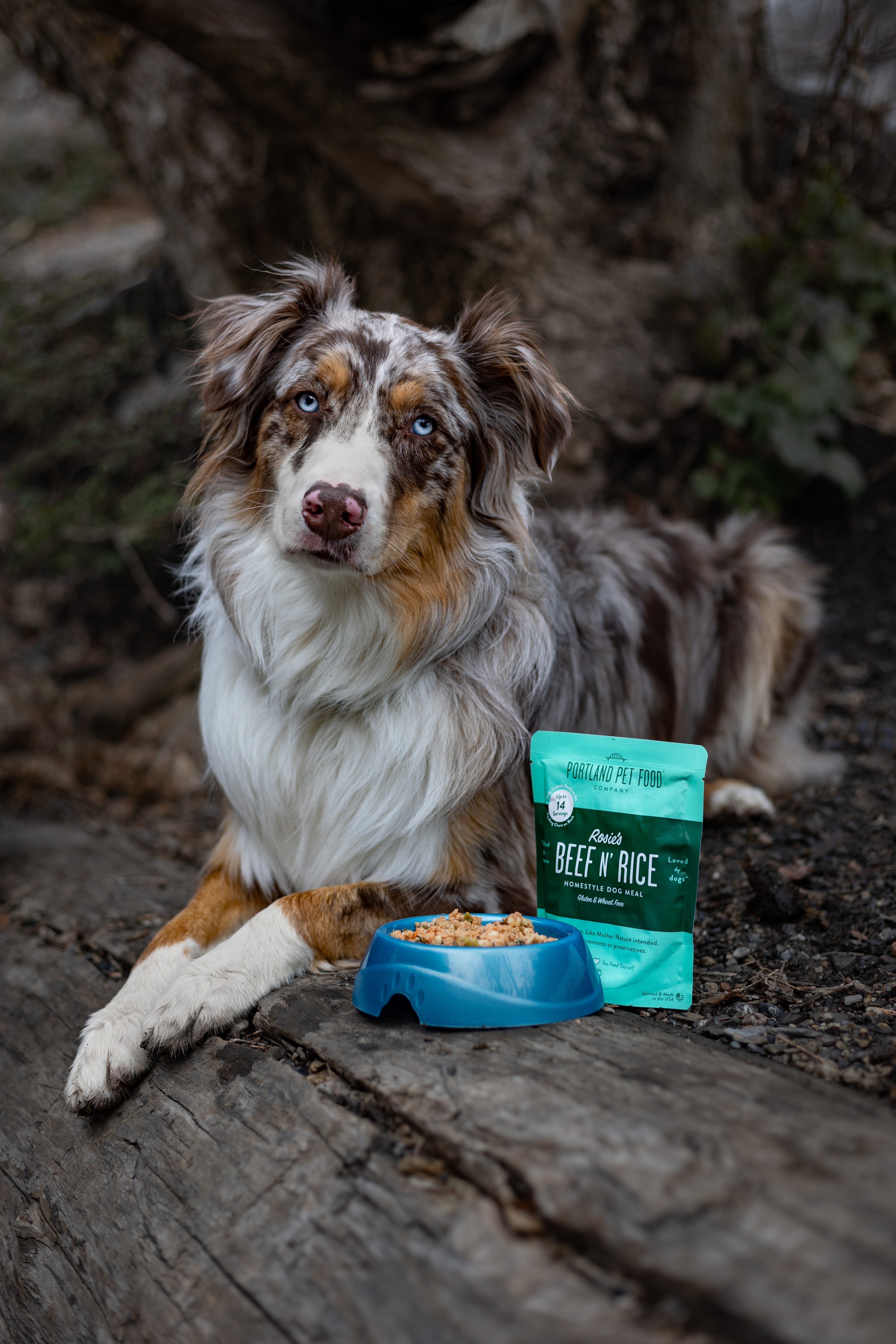 How Do We Cook Our Meals?
Our cooking process today reflects the way we started in 2014, when founder Katie McCarron was developing a food to give to her senior dog. We start the gentle cooking process in a kettle, then add the ingredients to our retort pouches. The dog food toppers are then heated again to finish the cooking, and are hermetically sealed to allow our meals to be shelf-stable.
Gently Cooked Dog Food Toppers
Our gently cooked dog food toppers are available in five flavors: •pork and potatoes dog food toppers •turkey and yams dog food toppers •beef and rice dog food toppers •salmon and rice dog food toppers •chicken and yams dog food toppers
Learn More About Retort Pouches
Benefits of Gentle Cooking
The primary benefit of gentle cooking is that it helps retain more of the healthy proteins, minerals, and natural nutrients that are found in the whole food ingredients we use. This means that we don't need to add vitamin packs or synthetic supplements. As a result, our dog food toppers are more digestible (which makes them great for dogs with sensitive stomachs and senior dogs). The gently cooked food can also help produce more regular bowel movements for your dog (and firmer stools), and it can help with weight control (because there aren't added fillers or carbs). If you're accustomed to feeding your dog a raw diet, our gently cooked dog food toppers can also stand in as a convenient alternative when you're traveling.
Try Our Homestyle Meals Today!
Use left/right arrows to navigate the slideshow or swipe left/right if using a mobile device