Gently Cooked Cat Food
At Portland Pet Food Company, our wet cat food is gently cooked, which helps preserve the nutrients cats need, while enhancing the flavors they love! 
Learn More About Our Cat Meals
Our Gentle Cooking Process
Our gentle cooking process is unique! We use a low enough temperature to make sure that the valuable nutrients in the whole, human-grade foods we use aren't lost, yet a high enough temperature to effectively kill any bacteria. We start the gentle cooking process in a kettle, and we finish it in our retort pouches – ensuring that the nutrients are locked in!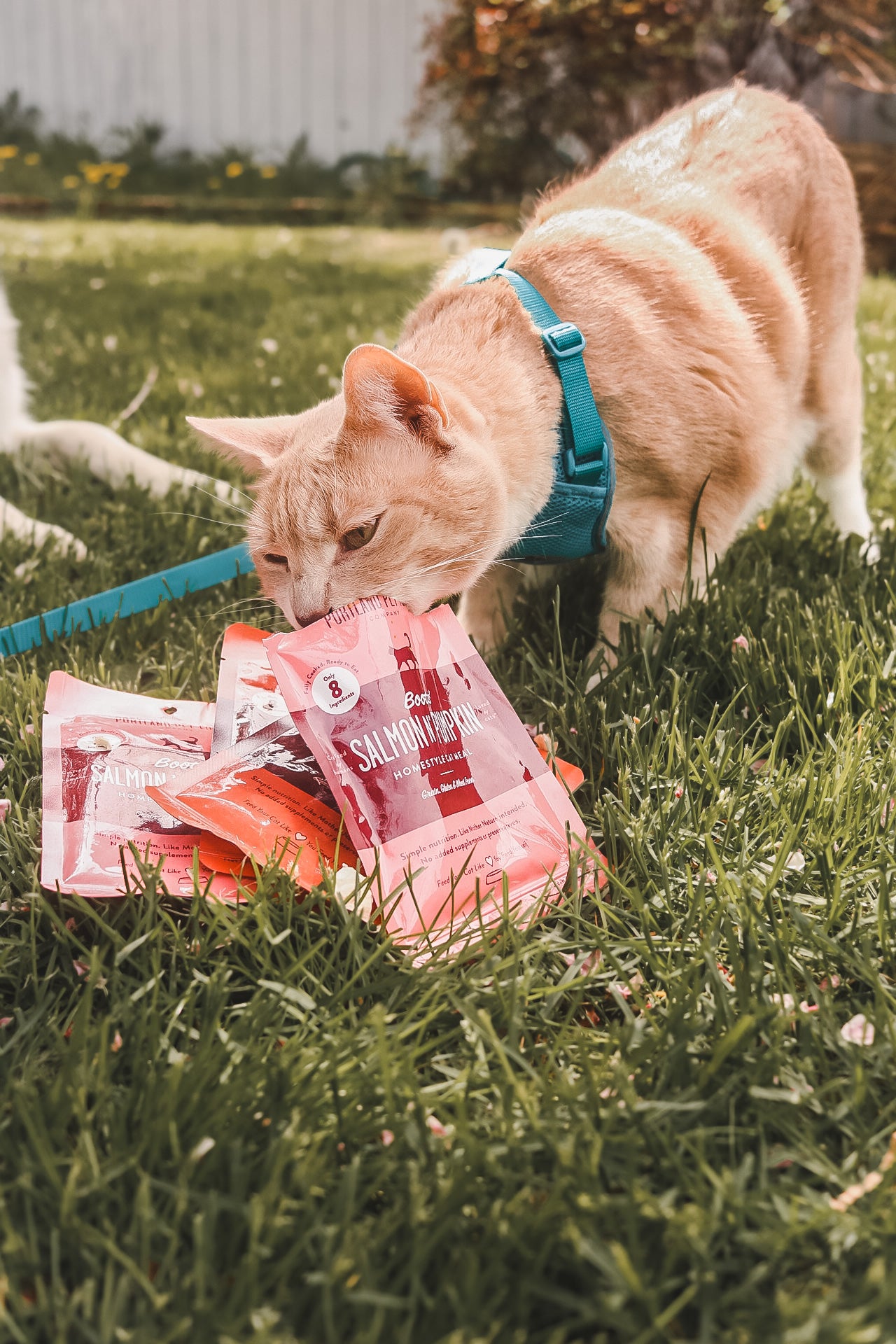 Benefits Of Gently Cooked Cat Food
By gently cooking the food (and thereby retaining the nutrient density of the ingredients we use), we don't need to add any of the vitamin packages or synthetic supplements that you'll find in many other brands of cat food sold today. Without those additives, preservatives, and synthetic ingredients, we're able to craft tasty, limited ingredient cat food that cats love! The benefits of our gently cooked cat food include: •easier to digest •helps with weight control (because there's no added filler or carbs) •helps promote more regular bowel movements and firmer stools The food is especially good for senior cats and cats with sensitive stomachs!
Our Wet Cat Food is Available in 2 Flavors:
• Boot's Salmon and Pumpkin cat food • Luke's Chicken and Pumpkin cat food
Shop Our Human-Grade Meals
Cat Food Made With Fresh, Human-Grade Ingredients
Our cat food is made in the USA with fresh, whole foods. No rendered foods or byproducts – just the types of healthy, human-grade ingredients that you might feed yourself. Most of our ingredients are locally-sourced, from vendors near our headquarters in Portland, Oregon.
Try Them Today!
Use left/right arrows to navigate the slideshow or swipe left/right if using a mobile device