Dog-Friendly Things To Do In Portland: St. Johns
Next up on Portland Pet Food Company's list of dog-friendly neighborhoods is St. John's, tucked away in North Portland and situated between the Willamette and Columbia Rivers. The neighborhood is described by locals as "extremely friendly" and "a town within a city", where you'll find everything residents could need is within walking distance. Below is our definitive guide to the best dog-friendly activities near St. John's neighborhood in Portland, OR.
About St. Johns Neighborhood in Portland 
St. Johns is a haven within Portland city limits. From Cathedral Park to its charming and walkable downtown, the North Portland neighborhood feels like a quaint small town with locally owned shops, pubs, cafes, movie theaters and lots of history scattered throughout. Get ready to explore a lovely, lesser-known side of Portland with your pup! 
Shop Our Limited Ingredient Dog Meals
St. Johns has a variety of dining options, from Italian trattorias to Mexican markets, ramen shops to Jamaican restaurants, and vegan comfort food spots to cocktail lounges. Residents won't have to leave the neighborhood to find something exceptional to eat or drink. The best part? Fido can come to most places alongside you.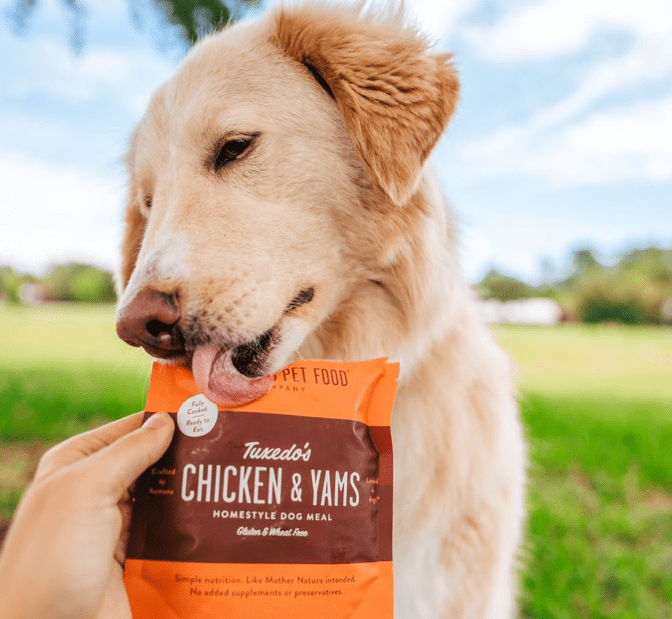 Dog-Friendly Restaurants, Breweries and Bars in St. Johns
One of our favorite dog-friendly places to eat is the St. Johns Food Cart Pod and Beer Garden, located on Lombard. This dog-friendly food cart pod is one of the largest in Portland, with more than a dozen food carts to choose from, a craft beer garden, and a fire pit. You will find dog-friendly outdoor seating, plenty of locals, and good food options for the whole family. Other dog-friendly restaurants with outdoor seating for Fido - and a great beer or snack for you - include Stormbreaker Brewing, Paiku, Leisure Public House, Bahn Mi Up, and The Fixin' To. Paiku, a personal favorite, has some of the best breakfast options in town, as well as a weekend picnic basket that you can order and take to the nearest park with your pup. The Fixin' To has great beer, regular live music, and a nice dog-friendly outdoor patio for you and Fido.
Best Dog Parks in St. Johns
After filling up on good treats, food and beer, you can take Fido for a scenic walk in Cathedral Park. This park overlooks the Willamette River and has a stunning view of the St. John's Bridge. It includes a nice walking path along the river, picnic tables, and an off-leash area for Fido.If you're looking for a longer walk or fun outdoor activity, Pier Park is a great option. You'll find plenty of pups alongside their owners playing a game of disc golf throughout the park. Within Pier Park you will also find a steel bridge that crosses over into Chimney park, its main attraction being a large, gated dog park.
Best Pet Stores in St. Johns
If you are wanting to spoil Fido with a dog treat or toy, stop by Nature's Pet Market, right off Lombard. Nature's Pet Market is a natural pet store with everything you need to keep your pet healthy, happy, and living the best life they can. They have a knowledgeable staff that will point you in the right direction for you and your pup's needs. Call us biased, but this is also a great place to stock up on our healthy, fresh, dog food toppers or tasty dog treats. No matter what you're looking for, you and your pup will be greeted with plenty of love and free goodies from the staff!
Best On-The-Go Meals & Treats:
Use left/right arrows to navigate the slideshow or swipe left/right if using a mobile device