Dog-Friendly Things To Do In Portland: Hawthorne District
Next up on Portland Pet Food Company's list of dog-friendly neighborhoods is the Hawthorne District, a quirky neighborhood filled with eclectic restaurants, vintage shops, boutiques, cafes, nightlife and more! The Hawthorne District runs along Hawthorne Boulevard from SE 11th to 55th Avenues. This area is a must-see for anyone traveling through Portland, and we recommend experiencing it on foot with Fido, to get the most authentic Hawthorne experience. 
About the Hawthorne District In Portland
The main, and most popular, street that runs through this district is Hawthorne Boulevard. This road was originally home to Oregon's first mental hospital and was named "Asylum Avenue" until 1883, when the facilities closed. The East Portland residents then renamed the street after the hospital's founder, Dr. J.C Hawthorne.

Shop Our Limited Ingredient Meals
Portland's Hawthorne Blvd. is known for its vintage shops, restored theaters, street performers, and overall creative characters - making it one of the city's top destinations for both locals and visitors. Here is our definitive list of the best dog-friendly activities in the Hawthorne District.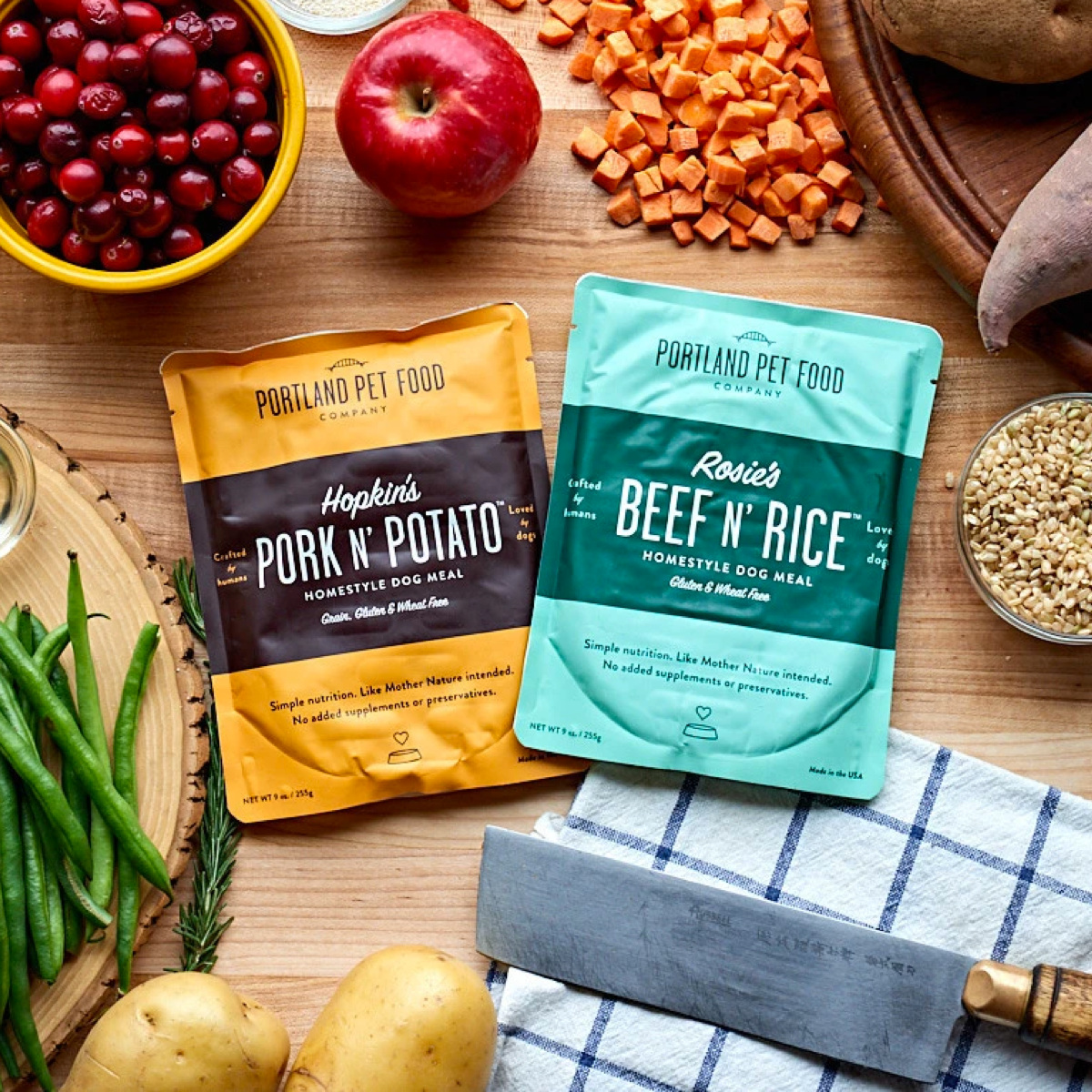 Our Favorite Dog-Friendly Restaurants and Bars in the Hawthorne District
The first honorable mention on our list of dog-friendly places to eat on Hawthorne is Cartopia, a famous food cart pod known for pioneering the now iconic food cart culture in Portland. We especially love food cart pods because they are always dog-friendly, filled with locals and have plenty of great options for the whole group! One of our favorite carts within the pod is called Pyro Pizza. This long-standing cart serves up wood-fired pizzas with fresh toppings and a Portland Craft Soda fountain, which pours out house-made drinks unlike anything else in the city - some flavors include Cherry Phosphate, Habanero Lime, and Spiced Coffee. If you are looking for a dog-friendly, sit-down restaurant, El Cubo De Cuba is a wonderful stop with Cuban comfort food, cocktails and a warm ambiance. They cater to both vegan and gluten-free diets, and feature a beautiful, dog-friendly patio filled with tropical plants out front. However, if you are craving something else, there are a number of options for you on this street. Other honorable mentions of dog-friendly restaurants are (because this street is packed with great options) Por Que No and Zack Shack. Por Que No is a popular, Portland, Mexican restaurant with delicious tacos and margaritas, as well as dog-friendly outdoor seating. Zach Shack is a local hot dog shop featuring a dog-friendly backporch and a ping pong table - perfect for enjoying a beer and hotdog with Fido.
Best Pet Stores in the Hawthorne District
Supply, formally Portland Pharmacy, is a family owned and operated business that has been serving the Hawthorne community since 1984. Portland Pet Supply has a variety of foods, toys, supplements and more for your beloved pets! We might be biased, but we think it's a perfect place to stock up on our homestyle meals. Another great pet store in the area is Mud Bay. Mud Bay offers carefully chosen, natural solutions for your dog's overall health and well-being, as well as scientifically-based nutritional guidance for your pets. They have a wonderful, knowledgeable staff and will make sure you get the best care and products for you and your dog.
The Best Dog Parks in the Hawthorne District
After making your way down Hawthorne, fueling up with Fido, and hitting all the shops, you'll be ready for a relaxing walk through the park. Portland is home to over 200 beautiful parks, but Mount Tabor Park is the only one that is built atop a volcano. Mount Tabor is home to 191 acres of century-old, public space known for its open-air reservoirs, annual Adult Soapbox Derby, and, yes, its volcanic cinder cone. A mixture of footpaths and paved roads crisscross Mount Tabor, making it easy to start a hike, or stroll, with Fido from any point in the park. You will see plenty of people with their dogs, and even cats, on leashes on the trails here. ​​In addition to leafy trails and unique sights, Mount Tabor Park offers a wide array of amenities. Entertainment options include a basketball court, horseshoe pit, playground, volleyball and tennis courts, and an outdoor amphitheater. A fenced, off-leash dog park is also located at the base of the hill. ADA-accessible picnic areas, play areas, and restrooms are available throughout the park. There is also plenty of space to take a rest in the grass and share the beautiful, Portland scenery with your pup from the top of Mount Tabor.
Fuel Up With Fido:
Use left/right arrows to navigate the slideshow or swipe left/right if using a mobile device