Best Cat Food For Senior Cats With Sensitive Stomachs
As cats get older, they develop more sensitive stomachs, which can lead to vomiting, diarrhea, loose stools, loss of energy, diminished appetite, and weight loss.
As part of the natural aging process in cats, their stomachs and intestines might not be able to break down and absorb nutrients as efficiently as they once did when they were younger.
Enjoy 40% off your first variety pack with code CAT40!
Why our meals are perfect for senior cats -
Our wet, cat food pouches are made exclusively with human-grade ingredients, have high moisture inclusion, are gently-cooked, include pumpkin to aid in digestion, and never include any additives or supplements. Together, this makes them perfect for senior cats and cats with sensitive stomachs!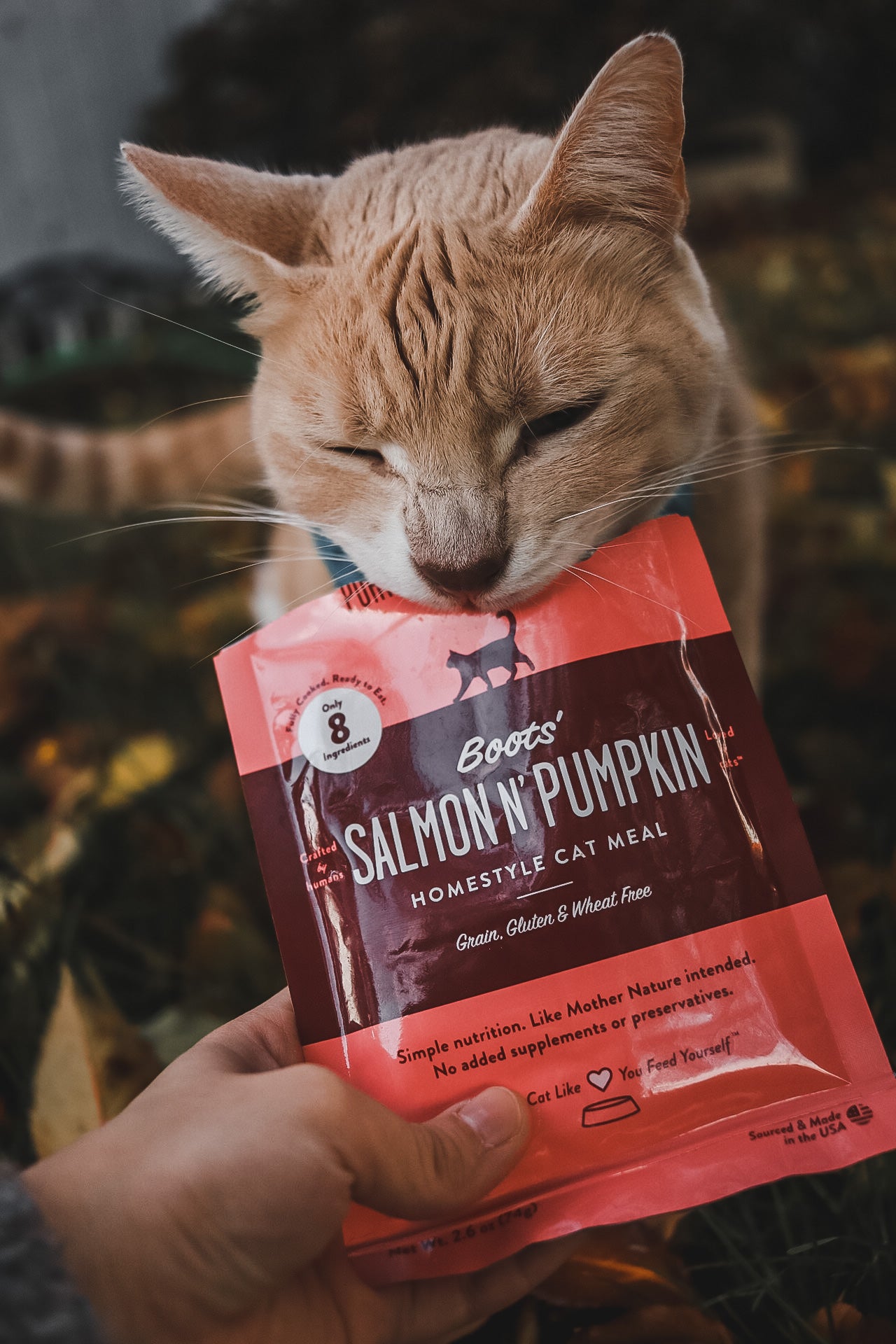 Why Senior Cats Have Sensitive Stomachs
When senior cats have sensitive stomachs, it's often because they have less tolerance to certain foods. Unfortunately, many well-known brands of wet cat food and dry cat food can exacerbate digestive issues because of the poor quality of ingredients in them – and the additives, supplements, synthetic ingredients, and preservatives that are often added to cat food.
Healthy, Natural, Limited Ingredient Cat Food
Our cat food is available in two tasty flavors, both with only 8 ingredients: Chicken N' Pumpkin and Salmon N' Pumpkin! Use code CAT40 to save 40% on our cat variety pack - designed for cats with sensitive stomachs.
SHOP WITH CODE CAT40
The Best Cat Food For Senior Cats With Sensitive Stomachs
At Portland Pet Food Company, we start with fresh, human-grade foods, and we don't add much more. Our wet cat food is limited ingredient (no more than 9 ingredients), and we slow cook the food in small batches to help preserve the food's natural nutrients. We don't add any additives, preservatives, artificial coloring or synthetic ingredients. And we only use whole foods – never byproducts or rendered foods.
Try Our Homestyle Cat Meals Today:
Use left/right arrows to navigate the slideshow or swipe left/right if using a mobile device