The first shelf-stable, fresh, human-grade supplemental dog food subscription!

Fully cooked, ready to eat supplemental dog food meals and toppers.

No defrosting or freezer needed. Take it on-the-go or serve at home for a tasty meal.

Convenient free deliveries, on your schedule.

Save 25% off your first supplemental dog food subscription purchase and 10% on future orders.
Add the meals your pet will love to your supplemental dog food subscription
Ready to serve. USA Sourced Ingredients. No additives or preservatives.
Mix it. Top it. Meal it. Your choice!
Add treats to your supplemental pet food subscription, too!
Human Grade treats made with 100% USA sourced ingredients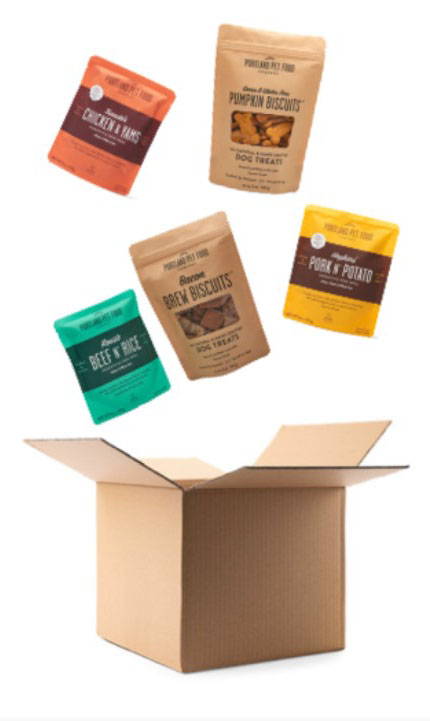 "I cannot say enough good things about Portland Pet Food! I care for a few dogs and all of them loved Rosie's Beef and Rice, even my pickiest pooch Tostie. We love our dogs like family and I'm so happy Portland Pet Food is a local company that provides fresh, nutritional food for our furry family members!"
"JR loves Tuxedo's Tender Chicken mixed in with his dry dog food. He thinks it is so tasty and I'm confident that he is getting natural ingredients in his diet."
"Max is a high-maintenance food eater. But, he loves Rosie's Beef n Rice. We definitely recommend portland food company because we have confidence our dog is getting fresh, healthy, nutritious food."
"Riley loves the Brew Biscuits. After he eats it, he licks the floor forever to make sure he gets every crumb. And then he sniffs all over the area in case he missed anything. You have a winner!"
Subscription questions? We have answers.
How do I start my subscription?
It's simple! You can start your dog food subscription for any product by choosing "Subscribe & Save" (instead of "One-Time Purchase"). In your dog food subscription, you select the quantity you want delivered (each item can be delivered at a different interval), how often you'd like the item delivered, and check out. On the first order in your dog food subscription, you'll receive 25% off, which will be applied at checkout. On all future orders in your dog food subscription, you'll automatically receive 10% off.

Can I pick a different flavor for each shipment in my subscription?
Absolutely! You're welcome to change your dog food subscription at any time, which enables you to try out different flavors of dog food meals and treats at your own pace. If you don't make any changes to your dog food subscription order, you'll automatically be shipped whatever was in your last order.

If I'm planning to be out-of-town, can I skip shipments in my subscription?
Yes, in your dog food subscription, you can skip a shipment whenever you like. Just log into your PPFC account and select which shipments you'd like to skip.

What's the benefit of having a subscription?
The primary benefit a dog food subscription is the convenience of having dog food meals and treats delivered to your door, on the schedule you choose. You'll also save 25% off the first order in your dog food subscription and 10% off all future orders.

We donate 5% of net profits to non-profits that support animals
When you subscribe you are also donating with every order!